Are you Ready to Be Wild Woman?
Wild: growing or living in a natural state; not domesticated; untamed.
Are you healing from trauma?
Tired of feeling anxious, uncomfortable and/or overwhelmed in your body & in life?
Tired of judging yourself and feeling at the mercy of your critical inner voice?
Tired of stuffing your feelings, stifling your voice—or losing it over little things?
Want to feel confident and trust yourself?
Want to free your voice and claim your feminine power?
Ready to feel alive, joyous and free in your body?
Be Wild Woman provides the healing tools and support for you to rewild and feel at home in your body–safe, powered and free.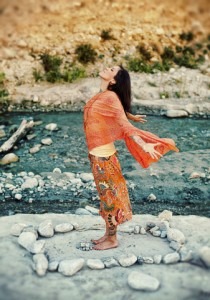 Wild Woman Healer, Kiana Love's powerful Home in Your Body healing program guides you home to your body to experience the power of nature in you. Wild Woman, the intuitive instinctive feminine power of nature, lives here in your body.
Reclaim your body, your feelings, your truth and your wild joy. Heal your body; your heart, belly and womb. Realign with nature. Stop hurting and stop hating your body. Create the safety you need to be wild, free and in love with your body and your life today. It's time for you to be wild woman.
"Learning how to reclaim my body helped me move from feeling anxious, depressed, ashamed and uncomfortable with my body to feeling innocent, self confident and free to express myself. My menstrual cycles shifted from unbearably painful to easeful and sacred. My body became a sanctuary—no longer a battleground or shameful memorial of devastation. I began to trust my body….and love being a woman. "
Kiana Love- founder of Be Wild Woman
Ready to feel comfortable and delighted in your own skin?
Click here for your free Hold Your Heart & Feel Safe to Heal energy healing tool.
I'll guide you on a hold your heart journey & teach you how to do this for yourself. In order to experience the joy of being at home in your body, you need to first feel safe.