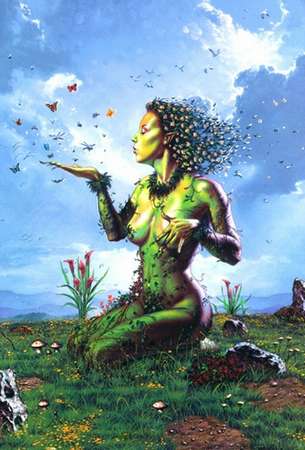 Nurture Your Nature: Come Home to Your Body
June 2013 – March 2014
 Limited to 9 Women  APPLY NOW
 " Within every woman there is a wild and natural creature, a powerful force, filled with good instincts, passionate creativity, & ageless knowing.  Her name is Wild Woman, but she is an endangered species. Though the gifts of wildish nature come to us at birth, society's attempt to "civilize" us into rigid roles has plundered this treasure, & muffled the deep, life-giving messages of our own souls.  Without Wild Woman, we become over-domesticated, fearful, uncreative, trapped.–Clarissa Pinkola Estes.  Women Who Run With Wolves
Are you ready to laugh & dance with wild abandon like a child?
What would be possible in your life if you felt at home in your body, safe nurtured & loved?  
What would  your life look like if you felt free to be & express yourself completely?
Here's Wild Woman's Invitation to YOU!
"This is an invitation to you to re-claim your wildness.
Reclaim the wild nature of your body;  it's sensations, it's feelings, it's wisdom.
Within you there is a whole landscape of beauty & wilderness that needs to be protected.  The beauty & wonder you find in the forest, looking at a mountain rise out of the earth or floating in the ocean under a blue sky is within you. The power of the ocean, the beauty of nature, discover it all within. Within the most vulnerable part of you lies your deepest strength & knowing.  This is the part that knows, that has the map of your longing, desires & what you need to be wild & free.
I am here to help you re-claim your wisdom, your joy, your wildness." Wild Woman 
Arise Wild Woman is an in-depth, rich healing program designed to empower you to trust your body & feel your joy!   Learn how to utilize those sensations and feelings to inform your decisions.  Learn how to trust your sensations, rather than stuff them down, make them wrong or shut your self off.  Transform your fear of feeling pain to your delight in feeling joy.
The work is based on the healing & transformation, I have witnessed in my work with clients & students here at Be Wild Woman, experienced on my own healing journey & woven together from my extensive studies.  Gain access to a rich lineage of healing & women's wisdom.  Gain a live connection to & rewilding of yourself as wild woman in your power & joy.   Embark on a deep pilgramage of discovery & healing into your wild instinctive nature & reclaiming yourself as a wild woman.
I spent years seeking to heal from childhood trauma, trying to find the answers through studying psychology, going to therapy, reading books, and self-medicating.  These studies only took me so far. I began to understand what was " wrong with me" but still felt powerless to break free.  I found that in order to get out of my head filled with worries, judgements & confusion I had to get into my body & feel my feelings.   I found I was able to access the wisdom and answers that were WITHIN ME, rather than trying to find the answers OUT THERE. I learned that the truth is within me, within my body.  I learned to trust my body, my feelings & myself. This was the beginning of my journey home into the joy of being a woman & being me.  This a has lead me to create  Be Wild Woman and help women access their truth and freedom.  Listening to and trusting my body, recovering my innocence and goodness as a woman has allowed me to open to the intimacy, joy and love I longed for.  It has  given me the confidence, strength and wisdom to share these tools with women & to empower them to feel safe in their bodies.
 The Arise Wild Woman Program is a 1 year foundational program (click here for schedule) designed to end your struggle to get approval and/or your quest to fix yourself. It is designed to empower you to come home to yourself.  It is an invitation from Wild Woman to experience yourself as the wild and natural creature, a powerful force, filled with good instincts, passionate creativity, & ageless knowing." that was referenced in the above quote. I am being called by Wild Woman to share with you the tools to restore, heal & empower you & our world.  This program is a powerful initiation into being a living sanctuary from which wild woman pours healing into our world.
 Who is Arise Wild Woman for?
 The Arise Wild Woman Program is both educational and experiential, and is designed for a woman who has engaged in her own personal growth process. Whether you are fairly new to this type of work or are a woman who has actively studied and committed to her healing path, Arise Wild Woman is for the woman who is hungry for her life.  It is for a wants to reclaim &  know her power.  It is for a woman who seeks to understand, heal and LOVE her body.  It is for a woman who longs to experience her freedom.  It is for the woman who wants to restore her body to its sacred wildness & experience her own embodied spirituality.  This is for a woman who wants to restore her own connection to the divine & worship at her body's own altar. This is for a woman that won't settle for running her body, checking out from it or anything less than being fully present in her body & in her power.  This is for a woman who wants to live her life full out & experience all the joy, love & aliveness it has to offer.
It is an incredible opportunity for healers and facilitators of all kinds who want to support women in coming home to their bodies & their own wild power.  This is an opportunity to root & deepen your own foundation & have access to the deep healing, power & wisdom of the wild feminine that is only available when a woman is fully present experiencing herself in her body's temple.  Arise Wild Woman is the core foundational program for anyone called to be an Arise Wild Woman Healer.  In order to guide women into their wildness we must first experience & know it ourselves.  Graduates will be eligible to apprentice with me & to be mentored & initiated as Arise Wild Woman Healers. The Arise Wild Woman Healer Program is still under-construction & yet to be revealed.  Graduates of Arise Wild Woman are welcome to share their chakra teachings with their clients & community & asked to keep their wild woman practices for themselves as they are sacred transmissions meant to be shared through Arise Wild Woman Healers.
 The class is limited to 9 women, so I can give the one-on-one care & attention a woman needs to feel safe to feel & express herself & flourish in.  It is limited to 9 women so together we can create a safe sacred container to feel held & free to unfold in our own timing.  This class is designed to nurture & restore a woman to her wild magnificence.  Nine women will take a deep dive into their power source: THEIR BODY.
What is Arise Wild Woman?
I am weaving together wisdom & trainings from my healing journey to share with you. I spent years trying to figure out how to get into my body, how to feel safe, how to let go, how to fall in love with myself as a woman & attract & keep the love I deserve.  I am distilling this all for you & weaving together what I travelled to seek out for years.
 This course is a combination of education, ritual, private healing sessions, coaching as well as community celebrations & rituals. It consists of a series of one-on-one healing sessions, as well as group tele-circles, live events, in which we will study the workings of the chakra system, delve into ayurvedic principles, explore ancient goddess wisdom and traditions, connect with and utilize the cycles of nature, and learn to consistently nurture your body, access the information it has for you, and actually work with what it is bringing forward.  Together we will, dance, laugh, stretch, sing & play.  The goal is to establish or enhance a life long connection with yourself and your body so you can readily access joy, pleasure, love, creativity and your own natural energy centers on a day-to-day basis.
APPLY NOW!
What can I expect to gain from the program?
 In Arise Wild Woman, you will learn to experience your femininity as good, innocent and a source of strength.  It is designed to restore the connection between you and the DIVINE- not as some outside source, not as a concept, but as a direct experience – as it flows through you.  Just as the rivers flow, the flowers bloom, the sun shines and the wind blows- so is the nature of woman.
 Experiencing this sacred space in your body allows you to experience and embrace what it means to be a woman: WILD, joyful, untamed, nurturing, sensitive, creative, changing, sensual, fluid, intuitive, gentle, courage, empathetic, strong, feminine, instinctive, interdependent, non-linear, emotional, and receptive.  Your body IS where all these qualities LIVE.  It is here to be loved, listened to, honored, celebrated and cherished. Arise Wild Woman will give you the tools, support and a personal practice that empowers you to love being a woman.  You will gain a personal map of your body's wild wonderful land & a powerful tools to listen understand & attend to your body's messages.
 When you inhabit your body in this sacred way:
You have access to your intuition; the spiritual guidance & wisdom that is within you.

you stop living in the past, let go of old limiting beliefs, heal old trauma, & are free to create new uplifting beliefs & stories that serve you.

You free your wild woman voice; stop hiding, apologizing or holding yourself back.

you treasure & adore & fiercely protect your inner little girl because you know she is your treasured joy.
you step into your powerful self mothering & know you have all the inner support you need.
You know that all you have to show up in your life & you don't have to be perfect.

You laugh & dance with wild abandon like a child

You feel innocent, passionate & awake to your life.

You delight in your senses.

You know your worth & know you are worth fighting for

You trust yourself to make decisions and act on them

You make healthy self-honoring choices- rather than addictive, people pleasing actions.

You experience more joy, more grace and more abundance

You awaken your inner healer & artist; you have access to your creative storehouse

You are free to love and be love

You will learn to speak up for yourself and ask for what you want.

You experience your life fully, the way you do when you are on vacation

You have access to your power & the power of nature

You feel your life force and your very own WILD NATURE. (great!)
You Will Gain:
* a solid understanding of the chakra system & yourself as a woman
* A psycho-spiritual framework for self diagnosis and healing
* Yoga practices & bioenergetic exercises for each chakra
* Bioenergetic exercises for the lower chakras
* Body-oriented techniques for clearing blocks & connecting to your power.
* An understanding of chakras and childhood development
* Deeper awareness & understanding of your herstory & issues & how to resolve them
* simple powerful healing tools & maps that you can easily use in your day to day life;  herbs, reflexology, acupressure, essential oils, & more.
* a personal, daily practice that empowers you to feel grounded, focused, clear & supported to make your dreams come true.
Learn how to:
* Quiet & focus your mind, integrate it with your body's wisdom
* discreate old beliefs for good & create new ones that empower you
*  Awaken your inner Wild Healer; receive & send healing energy
*  Heal with Angels & Wild Woman
*  Feel your energy field & maintain healthy boundaries
* Clear energy & access healing energy via your body
*  Clear your home & surroundings
* Use crystals, sound, aromatherapy & smudging for healing & balance
How is Arise Wild Woman Structured?
Arise Wild Woman is designed with all the essential ingredients for you to thrive:(click here to see the full program calendar)
One on one guidance & support with Kiana Love -90 minute wild woman sessions; consisting of healing, movement, creativity, coaching, mentoring, intuitive guidance.
Weekly group calls -60 minute calls from the comfort of your home experience a circle of support
Monthly live immersions- full days of training, healing, ritual, celebration & community
 Seasonal Celebrations-equinoxes, moon circles, goddess celebrations
 Online community & support-private facebook group, discussions, inspiration & questions answered mon-fri
 Home Discovery-exercises, readings, journaling, videos, mp3's, workbook,
Expert Consultants; Consultations, Q&A, Recordings, Events:
 Chakras:  Anodea Judith Author Therapist, Educator, Founder of Sacred Centers; Chakras Expert. Chakra Blessing, Recordings,  Handouts.  Books, Materials,Credit for Sacred Centers, Psychology of the Chakras & Energy Awareness Courses
Ayurveda & Western Medicine: Bhaswati Bhatacharya MD
Founder & Director of Dinacharya Institute of Ayurveda
Individual Ayurvedic consultation, Recordings, Handouts, Talk on Agni:Your Digestive Fire
 Chiropractic: Dr Louis Angulo  D.C.
Chiropractic consultation; adjustment, assessment of alignment & spine, handout, exercises
Psychology:Dr. Susan Hyatt
Psychologist ; Expert in women's sexuality
Healthy Sexuality Q & A Call, Evaluation, Handout
Feng Shui: Dee Dee Mendez
Handout, Call; Arranging your home & life for wild balance & success
materials:
Arise Wild Woman Workbook
by Kiana Love
Arise Wild Woman Journal
by Kiana Love
Eastern Body, Western Mind: Psychology and the Chakra System as a Path to the Self
by Anodea Judith 
The Sevenfold Journey: Reclaiming Mind, Body and Spirit Through the Chakras
by Anodea Judith
Women Who Run With the Wolves: Myths and Stories of the Wild Woman Archetype
by Clarissa Pinkola Estés
Receive Certificates:
* Arise Wild Woman Graduate Certificate
prequisite for Arise Wild Woman Healing Aprenticeship Program  *coming in 2014
 *  9 Month Psychology of the Chakras
applicable toward certification with Sacred Centers
 *  Wild Woman Energy Awareness Course
fulfills  course requirements for Sacred Centers Certification 
 *  IET (Integrated Energy Therapy) Steps to Transformation
includes workbook
* IET (Integrated Energy Therapy) Healing Angels of the Energy Field
LIVE WISDOM & HEALING FROM BE WILD WOMAN
I'm so excited to share this program with you & with it all that I've discovered on my healing journey from trauma & shame to the joy of being a wild woman.   This is the culmination of my own journey, the healing the womb workshops, documentary, group programs, private work & all the channelled wisdom & healing from Wild Woman.  With this project I will be writing the Arise Wild Woman book she has been urging me to write for women.   Each week during the program, in addition to my daily practice where I sit with her, receive her healing, listen & transcribe her channelled messages, I will be spending a day listening to & transcribing her for messages for us & for women.  Each week we will be receiving life transmissions from her & you will be learning how to receive your own messages, guidance & healing from her.   I have mapped out the journey & am excited to be your guide.  You will gain your own map & learn to navigate your wild sacred land & open to the power, healing, wisdom & unbounded joy that pours through from Wild Woman & through you into the world.  It is time for sacred wildness to be restored in your body, your life & in our world.  This is a sacred calling…& you are being called to join me.   Wild Woman is calling you & all women to arise!  I so hope you'll join me.
wild blissings
KIana Love