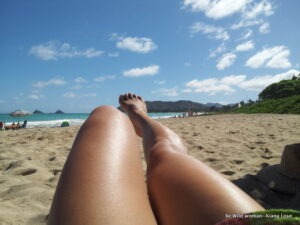 Confident, Sexy, Fun in the Sun… Ready for your best summer ever?
Summer is yours to enjoy —–when you love & trust your body.
Want to tune into your inner guidance and start trusting yourself?
Book a session with me & gain the clarity & peace that comes from knowing & trusting yourself.  Gain clarity about whats holding you back and how you can love your body.
It is my joy to illuminate and show you the powerful, creative, wisdom and beauty that shines from your being.   Click here to book your session today.
blissings
Kiana Love
Gain confidence, insight and and spiritual support with your 45 minute Love Your Body Reading from me, Kiana Love, founder of Be Wild Woman in person, via phone or skype.
Experience a soothing gentle blend of guided imagery, tarot, angelic support & chakra healing and step into your joy.
Click here to claim your joy this summer.
I'm a gifted intuitive healer in NYC specializing in women's recovery from trauma into joy. I empower women to transform their fear, shame and self-hate into knowing, loving and trusting themselves completely.
I draw from my experience & knowledge from my own journey from trauma & shame to self love & joy to support and guide you on yours.
Testimonials:
"Kiana has a special gift for zeroing in on the higher purpose of any situation and helping people access the abundant spiritual support and guidance that is available to them. My readings with Kiana have given me tremendous clarity, comfort, and understanding during some of the most challenging times in my life. I'm grateful to have received the blessing of her work." Melissa Zwanger  NVC Coach and Trauma Recovery Specialist
I believe the Tarot is a very powerful tool for gaining clarity, insight, and solutions for just about any personal problem one is facing. Using a unique "three-act" Celtic Cross spread, Kiana shed light on a number of issues in my life, past and present. Her talent for intuitively uncovering and stringing together pertinent pieces of my life story through the cards not only impressed me – it motivated me to re-examine old beliefs as well as refocus on what's important to me. Truly, a dynamic offering of much-needed reminders, new perspectives, and sage advice. Thank you, Kiana!
Kiana Love has that rare combination of natural talent and training that make her an exceptional healing practitioner.  Her intuition, energy skills, love and compassion, grounded in her extensive education culminate in her profound ability to do deep healing work.  As a wise guide on your journey, she'll ease your passage and empower you in your process. She can gift you with new visions of paths to feeling whole.  Put yourself in her hands and you'll be glad you did.  Sheri Winston Wholistic Sexuality Educator & Author