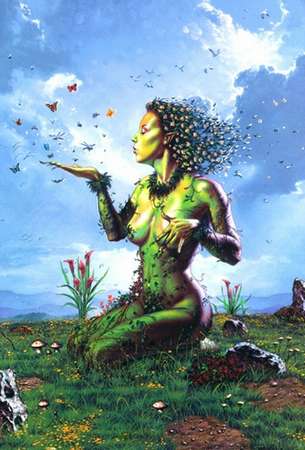 "Call forth your Divine wildness let it shine bright like jewels. . Your wild gifts, pleasure and much more,  lives within each of your cells.  When you awaken, wildness blooms fragrant from within you.  I am here to help you re-claim your wisdom, your joy, your wildness."  Wild Woman  channeled by Kiana Love
Greetings Succulent Explorers,
I'm so excited you've gifted yourself Succulent Sexcraft and decided to explore this detailed road map to erotic pleasure with Sheri Winston.  You are in for a extraordinary and essential journey into your pleasure.
To support your erotic play and practice, I'm delighted to gift you a 21 day Wild Woman Home in Your Pleasure Blessing ( valued at $300) from the unfettered feminine energy of nature, Wild Woman.   I'm offering you a powerful channeled blessing to support you in feeling safe, grounded and free to open the doors to your sensual pleasure and dive in.    This blessing has been channeled and created just for you to support you in your succulent sexcraft  studies.  Enjoy!
Your Wild Woman Pleasure Blessing includes:
-21 days of sensuous rituals and exercises to clear, bless and awaken your body to pleasure.
-A live pleasure blessing, healing transmission call on Thursday October 23rd 8pm.
-mp3 recording of live call and wild woman pleasure messages and meditations for you.
-A private Facebook Group where you can share your experiences, receive support and ask questions.
Value:  $300   Yours for free!
Click here to register.  Use the code Succulent
Here is Wild Woman's message about this blessing for you:
" I will transmit a beam of pleasure to all that listen, men and women.  I will guide you into an experience of bliss. Join me on a journey into the sanctuary of pleasure that resides in your body.   Walk in the sunshine into the grotto of your delight.  You will be guided there to meet me and recognize where you are already are wild.  It is time for you to awaken and free your true nature.  Pleasure is your birthright"  (channeled by Kiana)
Feel free to send me a message if you have any questions, comments, or would like to know more about this gift or Be Wild Woman.
Kiana Love, founder of Be Wild Woman, holds a B.S. in Behavioral Science from the University of Houston, and has certifications in body mind healing and holistic health.  She is a Reiki Master, Integrative Energy Therapy Instructor, Holistic Health Counselor, Herbalist,  Sacred Centers Chakra Teacher and Healer, as well as a  Vinyasa Yoga Teacher.  Kiana draws from her personal healing journey, studies of the feminine, sacred sexuality, nutrition, creativity and energy healing to empower women to feel at home in their bodies, safe, nurtured and loved.
Be Wild Woman is a women's healing center that empowers a woman to feel at home in her body, safe, nurtured and loved.  Be Wild Woman offers healing programs and community events that teach, support and inspire women.   We are located in New York City on the Upper West Side.  Be Wild Woman was founded in 2006 by Wild Woman Healer, Kiana Love, to create a safe space for women  to be wild.  By wild we mean growing and living in your natural state, free to be you.