Join us Celebrate International Women's Day; Freedom to Love Circle & Dance Sunday March 10th
Be Wild Woman is offering women a
Freedom to Love Celebration this Sunday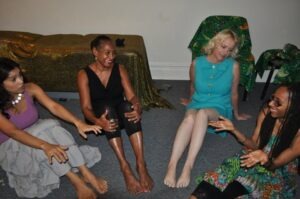 March 10th from 2-4pm.
135 Plymouth st #209 Dumbo, Brooklyn
(doors open at 1:30, please arrive by 2p)
Join us to honor, bless, celebrate & empower women.  Bring your voice, your heart & your dance.
We gather to free women from shame, guilt, & pain & free women to speak, dance & LOVE BEING A WOMAN.
As a child, & even into my 20's I wouldn't have celebrated being a woman. I was a tomboy & hated being a girl.  I thought it was weak & felt punished for having to wear skirts and not being able to run outside with the boys.  I dreaded the prospect of having a baby & taking care of a husband. I wanted the freedom & power that boys had.  I strove to show how smart & tough I was.  I put up a tough front & pushed away or ran away from "nice guys", yet I'd find myself falling for unavailable guys, running after them & not respecting my own boundaries. Afterwards I'd feel shame & self loathing.  The masculine I had internalized, hated the weak feminine part of me that longed to be loved.  I judged myself, ran my body, used my sexuality to get love & power.  My feminine body took the toll & began to cry out louder & louder with painful messages of cramps, ovarian cysts, depression, anxiety, night-terrors, insomnia, and finally broke down,  barely able to get out of bed.
When I finally began to listen to my body & tend to my wounded feminine, the part of me that felt something was wrong with me, that God made a mistake making me a girl, my body started to recover.  I went through a women's mystery school, called Woman Wisdom in 1998 & stopped hating myself & other women.  I started to discover the joy of being a woman & I started to see my fertility and cycles that align with nature  as a blessing & no longer as a curse.  I began to see myself as sacred & began to feel attractive & innocent. I stopped comparing myself to men & started to see my feminine traits as strengths.  I gained a sisterhood.  I realized the struggle & the journey we were going through as women & started to see other women as my sisters.
Today I'm passionate about empowering my sisters.  I know that together we transform the world from judgement & shame to freedom & love.  I invite you to celebrate yourself today & know that when we do this together we lift women & everyone up.  Every women deserves to have the freedom to love; the freedom to love & be loved, the freedom to love being a woman.  When women are free to love, so are our daughters, sons, husbands & brothers.    We cannot change or control everyone around us, yet changing our selves, the way we treat ourselves & others, changes the world.
Come celebrate International Women's Day with us!
Join us for a sacred circle of, love your body, healing, blessing & dance facilitated by Be Wild Woman Healer, Kiana Love with music by DJ Lady DM.

Here at Be Wild Woman we are standing for women to have rights to; own their own body, to love & be themselves, to have security, to feel safe, to feel their feelings & pleasure, to act, to speak their truth, to trust themselves, to know & learn truth.
International Women's Day started here in NYC in 1908 with a march of 15,000 women demanding shorter hours, better pay and voting rights. We got the vote & We continue today demanding for an end to violence against women, girls access to education across the globe, freedom from arranged marriages, better pay & reproductive rights.
Since its birth in the socialist movement, International Women's Day has grown to become a global day of recognition and celebration. Annually on 8 March, thousands of events are held throughout the world to inspire women and celebrate achievements.
"The story of women's struggle for equality belongs to no single feminist nor to any one organization but to the collective efforts of all who care about human rights"
Gloria Steinem
Donations accepted at the door. This is a no alcohol event