From Trauma to Peace: Group Healing Session & Circle [Oct 17th]
Join us to :
Experience a safe gentle space for healing
Relieve pain
Clear energetic blocks
Detox your body and mind from trauma
Invite peace into your body and life

Women, this is a safe space for you and I've created a special sacred space for the men in your life to experience healing too.  – Love, Kiana
Where: Be Wild Woman Healing Center  230 W 72nd st #2R, NYC
When:  Oct. 17th  10am-12 noon
10am-11am  Healing Session   $25       Click here to register
11-12n  Healing Circle      $15            register here
Register for both    $35       save $5 click here
*circle free for survivors of sexual trauma*

What is a From Trauma to Peace: Group Healing Session?
The From Trauma to Peace Healing Clinic is a gentle healing experience safe space where women recovering from trauma can gather, rest, meditate and receive energy healing led by Wild Woman Healer and Reiki Master Kiana Love.  This is a space to detox trauma, receive care and invite safety and trust and joy into your life. This is especially helpful for survivors of sexual and childhood trauma.  It is also helpful for survivors of violence and accidents and those affected by loved one's trauma.  
[There will also be a men's from Trauma to Peace Healing Session at the same time led by Integrated Energy Therapy Master Instructor, Reiki Master and Ordained Interfaith Minister, William Cochrane in a different room]  
What to expect at a From Trauma to Peace Healing Session?
Enter into a peaceful healing women's space with relaxing music.  Take off your shoes and find a comfortable place to receive energy.
We begin every healing session sitting on pillows and yoga mats in a circle on the floor with a brief relaxing meditation to connect you with the healing energy.  This begins the energy healing process.  The session runs for 1 hour.  During the this time you will receive a group energy transmission as well as personal hands on healing.  During this time you are invited to sit and rest to receive the energy.  
After the session there will be an optional Gentle From Trauma to Peace Healing Circle where you can share about and integrate your experience.  While the healing session itself is complete and can be attended alone, the Healing Circle is a place to integrate, share and learn healing tools to support you on your journey.  This is free for survivors of sexual trauma.  Plan to rest afterwards and drink plenty of water.
What to expect at a Gentle From Trauma to Peace Healing Circle
Join Wild Woman Healer & Reiki Master Kiana Love in a supportive circle of women to come home to your body.  
We start with a home in your body meditation. Sink down into your roots and feel the mother earth hold you.  Experience a safe space to feel and be heard.  Share your healing intentions and express your hopes and needs.  You will be guided through some healing exercises that you can use to release trauma and restore safety in your body, incorporating breath, toning and gentle stretching.  We end with a healing meditation.  
[There will also be a men's gentle From Trauma to Peace healing circle at the same time led by my husband, Integrated Energy Therapy Master, Reiki Master, Ordained Interfaith Minister and founder of Writing the Man, William Cochrane in a separate room.]
About Kiana Love: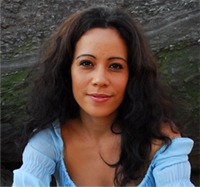 As founder of Be Wild Woman, Kiana is passionate about empowering women to reclaim and love their bodies. Her passion stems from her personal journey; recovery from trauma, healing from sexual violence, painful cycles, cysts, depression, and shame. Kiana draws from her personal healing journey, studies of the feminine, sacred sexuality, energy healing, nutrition, chakra healing, ayurveda and creativity to empower women to feel at home in their bodies, safe, nurtured and loved.
She holds a B.S. in Behavioral Science from the University of Houston, and has certifications in somatic healing and holistic health. She is a Wild Woman Healer, Reiki Master, Integrated Energy Therapy Instructor, Vortex Healer, Holistic Health Counselor, Herbalist, Reflexologist, Interfaith Minister and Yoga Teacher. Together with her husband William Cochrane she is founder of Start Loving Again, to help couples heal and start loving each other again.
About William Cochrane:
William Cochrane is a member of the Blackfeet Indian Nation, of Browning Montana. William drew from his rich experience and studies in writing gritty fiction, growing up on a reservation, recovery and healing to create Writing the Man. After going through a men's rite of passage, he was inspired to empower men to break through myths and pain of who they "should" be. In this program he employs writing exercises, discussion groups and physical activities to guide men to discover a clear roadmap to being their own authentic man.
He has worked as a Community Health Outreach Worker in San Francisco, as well sitting on The HIV Prevention Planning Committee, which guides the San Francisco Department Of Health in allocating HIV/AIDS funding.  William's interest in spirituality has led him to investigate many areas of worship, from Gnostic Christianity and his own American Indian Spirituality, to Eastern Indian Spiritual practices. William brings all these experiences to his sessions and with men. Mr Cochrane is an ordained interfaith minister, Integrated Energy Therapy Master Instructor and Reiki Master.
About Be Wild Woman:
Be Wild Woman offers healing programs and community events that teach, support and inspire women to align with nature and reclaim their wild feminine power. We offer women healing tools and spiritual support to reclaim their innate, sacred, creativity, healing and power via the wild woman archetype.
We are located in New York City on the Upper West Side. Be Wild Woman was founded in 2006 by Wild Woman Healer, Kiana Love to create a safe space for women to be wild.
By wild we mean growing and living in your natural state, free to be you