Open to Love: Wild Woman Full Moon
We are finally having our Open to Love Full Moon event! Woohoo!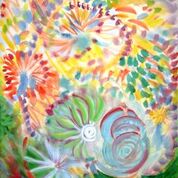 Open to love and let your heart soar.
Claim your feminine power and surrender to your abundance on the full moon. Come celebrate your wildness.
When: May 21st 330pm – 6pm
doors open at 3pm  and close at 345
Where: The TAI Group, 150 W 30th St, Fl 14th New York, New York
Tickets: $35 click here to register.
Featuring:  Artist Janet Morgan's Scapes and Mysteries Exhibit
"Morgan's images display our own felt electricity, the crackling auras and fields that we know for sure are there, not just from new scientific sensors, but from the way our bodies so often feel. We are not only stardust, but wild patterned energy, dust devils swirling through space for just a time. "– Kim Stanley Robinson, award winning science fiction author
Wild Woman is calling you to dance with her and open to love. It's time for you to surrender and claim the power of love. Join me for an experiential sacred journey through music, healing, magic, ritual dance and art for a Wild Woman Revel into Love. Journey through and dance with Janet Morgan's visionary art. Invoke love to bless your womb, rebirth, immerse and free your body to dance with and be love.
About Wild Abundant Woman Full Moons:
I am heeding Wild Woman's call to offer you a monthly gathering at Be Wild Woman to restore and celebrate the wild abundance of nature in women. I've created a welcoming safe space and a sacred journey for you to discover, heal and celebrate your abundance as a woman. Enter into a space where you say yes to honoring and being yourself and every woman. Experience a world where you are nurtured, celebrated and supported to be and express yourself, just as you are. Join me to live your abundant sacred life now.
This is for you if:
* You feel a sense of lack in your relationships, bank account, or quality of life.
* You are struggling to manifest the love you desire.
*You hold yourself back or feel unworthy of what you have or want in your life.
* You never have enough time or are late to things even if they are things you want to do.
* You deprive yourself of things experiences or relationships you desire.
*You have dreams, visions or desires that seem to always be just out of your reach.
*You are ready to live an abundant life now.
* You would like to join a powerful supportive tribe of wild women to manifest, network, and celebrate each other.
Join me to….

* Nurture, celebrate and feel at home in your body.
* Heal and bless your womb.
* Share your intentions; open to the flow of abundance that is inherent in nature: in the beauty of sunrise, in a field of flowers, in the leaves of a tree.
* Ask for what you want and open to receive it.
* Experience meditation and energy healing designed to support you in feeling safe and supported and at home in your body with founder of Be Wild Woman, Wild Woman Healer Kiana Love.
* Clear blocks, heal wounds around money, security, and worthiness to receive & create.
* feel supported by a circle of women.
* Laugh, network, dream
* Enjoy yummy food. (feel free to bring something delicious and nourishing to share)
This is Be Wild Woman's vision, for you and all women to align with nature to reclaim your feminine power. This starts with coming home to your body. When you feel at home in your body, safe, nurtured you are free to be and express yourself.
Bring your desires, intentions, dreams & visions to be blessed, manifested and celebrated!
What is a Wild Woman Revel?
Wild Woman Revel Dance; Embark on a sensory journey through the chakras to awaken, ground, relax and delight your body with a unique blend of dance, meditation, breath, toning, yoga and more. Sink into your sacred ground, deepen your roots, reach up to the heavens and feel free to fly.
Who is this for?
Women identified only. This is an event to support and celebrate women in being at home in their bodies and reclaiming their wildness.
How is this structured?
Please arrive on time so we can create a sacred space together.
We start with time for you to settle in, relax into wild women's space and if you'd like, connect with each other .You can mingle, look through the gallery, find a place to sit for our journey together and or relax.
Then we gather in circle and Wild Woman Healer, Kiana Love, will facilitate an experiential wild journey. We start with listening within in meditation and then each bring our voices and intentions into the circle. It is a time to listen, be heard and speak your truth. We come into partnership with nature
Then we immerse in a guided somatic journey of interactive exercises, some solo, some partnered and some as a whole group designed to guide you home to your body and free your innate wild voice and healing creative life force to flow and express through you.
This is a mystery journey to rebirth, consecrate and rewild your body as sacred, alive, whole and loved. This journey includes meditation, free movement, dance, yoga, archetypes, Goddesses, trance and ritual. You will interact with the paintings, each other and nature. This is an intimate journey into relationship with the feminine intuitive nature we know as Wild Woman. This is a journey home to you and a healing of the feminine, within you and in the world.
We will close the circle with sharing about your experience and end with time for you to relax, talk, enjoy refreshments and enjoy the art.
About Be Wild Woman:
Be Wild Woman is a women's healing center that empowers women to realign with nature in order to feel at home in their bodies.

Be Wild Woman offers healing programs and community events that connect, inspire, teach and support women to align with nature and reclaim their wild feminine power. We offer women healing tools and spiritual support to reclaim their innate, sacred, creativity, healing and power via the wild woman archetype.
We are located in New York City on the Upper West Side. Be Wild Woman was founded in 2006 by Wild Woman Healer, Kiana Love to create a safe space for women to be wild.
By wild, we mean growing and living in your natural state, free to be you.
About Kiana:
Kiana, founder of Be Wild Woman, is passionate about empowering women to reclaim and love their bodies. Her passion stems from her personal journey; recovery from trauma, healing from sexual violence, painful cycles, cysts, depression, and shame. Kiana draws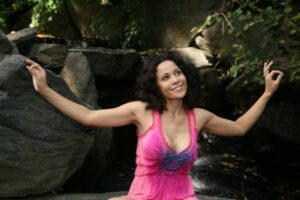 from her personal healing journey, studies of the feminine, sacred sexuality, energy healing, nutrition, chakra healing, ayurveda and creativity to empower women to feel at home in their bodies, safe, nurtured and loved.
Kiana Love is the founder of Be Wild Woman, holds a B.S. in Behavioral Science from the University of Houston, and has certifications in somatic healing and holistic health. She is a Wild Woman Healer, Reiki Master, Integrated Energy Therapy Instructor, Moon Mother, Vortex Healer, Holistic Health Counselor, Herbalist, Reflexologist, Artist, Intuitive, Interfaith Minister and Yoga Teacher.
Kiana's women's trainings include the Women's Wisdom Program with Hemitra Crecraft & Sue King and the Women in Power initiation in 2005 with Alisa Starkweather. She is also certified by chakra expert Anodea Judith as a Sacred Centers Chakra healer & teacher. Kiana Love has presented at COSM, Evolver, Jivamukti Yoga, Urban Sanctuary, Reflections Yoga, East West Yoga, Nurture New York, PEX Summer Festival, Figment, Eve's Garden & Balilbay Camp for Performing Arts. Kiana is available for healing programs, workshops, intuitive readings, intuitive art, circles, & parties.
To find out more go to www.bewildwoman.com
About Artist Janet Morgan
My artwork is grounded in the body, the kinesthetic: movement, music, and dance — and also in its subtle forces — emotional, spiritual and healing energies. The quest to reveal the underlying energy source runs through all of my work– like the Sufis I find no separation between the divine and the body. This past fall I taught a four session class at the Rubin Museum of Art on Creating Your Own Deity. We started by looking at deities from all over the world and physically getting into their postures and stances – this way we could to feel the impetus of each deity, its strength, rage, balance or peace. We then created our own deities starting with our own body's energy. As in my own work, our mainly Western perspective created new ways of manifesting traditional images that exemplify states of being.
And why is this art work important? We live in a time of much anger and violence, and communication is often disembodied. The disconnect between ourselves and the natural world is causing serious problems. We need to come home to our bodies, our animal-ness, our human-ness, our body-temples. I worked for 18 years as an expressive arts therapist at Sloan Kettering with adult cancer patients, and I understand that there are times when it is advantageous to not be in our bodies. However, fully inhabiting our bodies as part of Gaia gives us knowledge of ourselves and our home, with the opportunity for healing and connection.