Dumbo Arts Festival~ Full Moon Installation~ This is My Body: Womb Shrine Art Project
Our first exhibition of the  Womb Shrine Art Project is at the Dumbo Arts Festival!   Come join us Saturday September 29th under the Full Moon!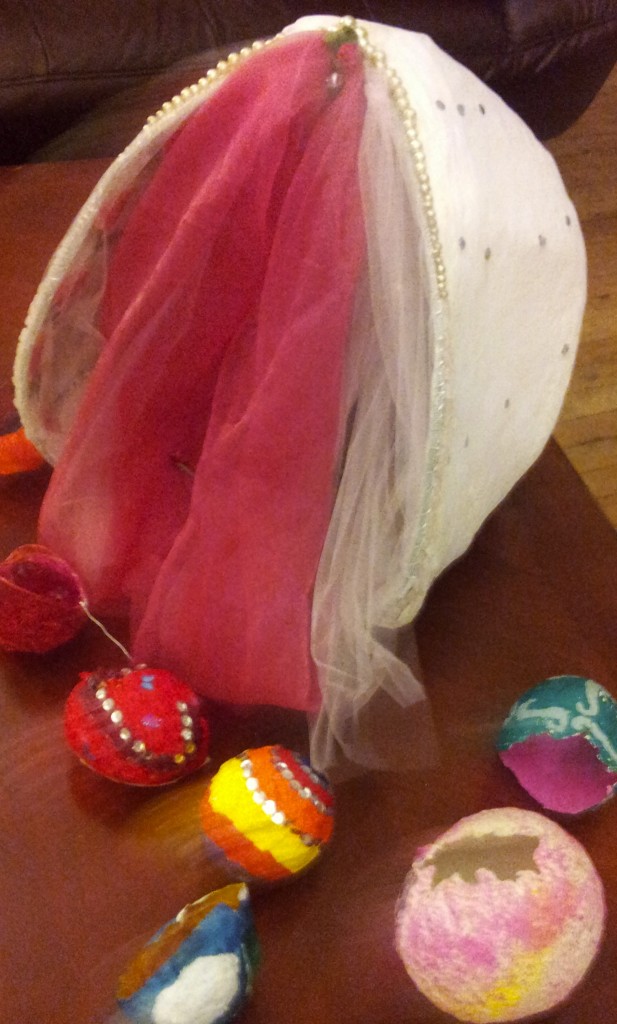 Great Plymouth Community Experiment ( PCX-135)
135 Plymouth St #211
(see treasure map to find us & follow the signs)
Come seek sanctuary, find peace & be inspired. Kiana Love, visionary artist & founder of Be Wild Woman, will be offering Full Moon Wombing Meditations & Blessings. Come to send forth a prayer, blessing, or desire, or simply to sit in sanctuary. Women & Men welcome to visit.
This is My Body: Womb Shrine Project:   @ Dumbo Arts Festival
Saturday September 29th 7:30-10:30p
Womb shrine sculpture & miniature wombs as a sanctuary for women's feelings, prayers & desires. The Womb Shrine Project is a creative healing response to the current political war on women. Envisioned by Kiana Love Founder of Be Wild Woman & Liv Arts and created interactively by women & girls. Participants helped make the wombs, paint them and embued them with their prayers, wishes and blessings for their own healing & for women across the globe.
The Womb Shrine Project uses recycled materials such as wire mesh, paper mache & plaster as well as rose quartz beads, ribbon and fabric. We are exhibiting the Womb Shrine as a hallway installation in a bonafide raw live/work loft space in Dumbo in a paper recycling factory building.
Dumbo Arts Festival:
Each year the Dumbo Arts Festival seeks to highlight Brooklyn's commitment to and presence in the arts community by presenting the best in local, national, and international art amid the breathtaking backdrop of the Brooklyn Bridge and the Manhattan skyline.
The Dumbo Arts Festival attracts 200,000 visitors over 3 days with the participation of over 500 artists from a variety of disciplines, 100 studios, 50 galleries and stages and 100 programming partners. This year, the Festival will take place on Friday, September 28th, Saturday, September 29th and Sunday, September 30th. The official Festival hours are Friday 6pm to 9pm, Saturday 12pm to 9pm, Sunday 12pm to 6pm and sundown to midnight all three nights for all outdoor projections.
Art revelers can enjoy: outdoor and indoor visual art installations and exhibitions, digital art and large scale projections, visiting artists in their studios or making murals on the street, musicians, dancers, poets, performance and circus artists throughout the neighborhood, on street corners, and in the park.
Please join us at the Festival that brings DUMBO's creativity to the world and the world's creativity to DUMBO every Fall.
The Dumbo Arts Festival is a wonderful celebration of art and Be Wild Woman is delighted to be a part of it. We are on a treasure map at 135 Plymouth st. www.dumboartsfestival.com